How to create a company culture that your employees crave
The culture of a company is a set of shared core values and practices that define an organisation, both internally for employees and externally as part of its public image. The more well-defined a company's culture is, the more likely they are to attract top talent and retain current staff!
This is why paying particular attention to your company culture has never been so important as we emerge from the Coronavirus pandemic and now find ourselves in the midst of the Great Resignation.   With companies struggling to successfully recruit new staff and adapt to new ways of working, ensuring your company culture is on point is vital.
Here are a few things to consider when thinking about the culture within your company:
Establish Trust
As a leader, it is important for you to build a trustworthy relationship with your employees. When your employees trust you, they believe in your decisions. But trust is not something that you can gain overnight; you have to earn it over time with conscious effort.
Define the Ideal Workplace Culture
Before you shape the existing culture in your company, define the ideal qualities that you want to integrate with your company culture. There is no culture that fits every organization, different companies have different priorities. So, define your ideal work culture based on the vision you have for your company.
Set Clear Expectations and Goals
Employees should clearly understand what's important and what's not. As a manager/ leader, it is your responsibility to set clear goals for them and make them understand how their personal goals can contribute to organisational success.
Measure Success and Give Feedback
The next step after setting goals is to regularly measure them and give feedback. If you want to achieve a goal, then monitor progress. It is said that monitoring progress frequently increases the chances of successfully meeting your goals.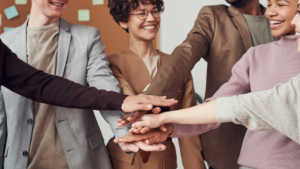 Recognise Good Work
Workplace culture is not just about changing the behaviour of your workforce; it is about how you act at your workplace. Appreciate and reward great work. Employees have busy schedules and a list of tasks that they have to finish before deadlines. So, when employees perform beyond their expectations, as a leader, recognise what they've done and reward them.
Develop Employees
When you monitor an employee's performance, as a manager/ leader, you should be able to help them perform better the next time. Establish a culture of continuous learning in your company.  Mobility policies along with CPD will help to encourage your staff to reach their full potential.
Focus on Employee Engagement
Employee disengagement is a common issue at workplaces at present. As a manager, you have to find a way to keep your employees happy and engaged at work. Focusing on employee engagement helps you understand your employees and create a positive workplace culture, which aligns with the individual values of the employees as well as the organisational values.
By taking the helm and addressing the impact that your company culture has on your employees, you could be mitigating future losses of staff and boost your retention rates.  If you feel that this is an area where you may need some help, contact Julie at Consult HR today by emailing julie@consulthr.co.uk or call 07858089006.
https://www.consulthr.co.uk/wp-content/uploads/2023/03/culture-1.png
540
960
Lorraine
https://www.consulthr.co.uk/wp-content/uploads/2020/07/Consult-HR-Logo-300x69.png
Lorraine
2023-03-30 21:42:35
2023-03-30 21:42:35
How to create a company culture that your employees crave