From 1 April 2016, workers aged 25 and over must be paid at least the new "national living wage" of £7.20 per hour.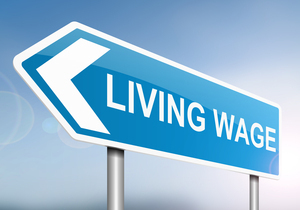 Who will be entitled to the National Living Wage?
Generally all those who are covered by the National Minimum Wage, and are 25 years old and over, will be covered by the National Living Wage these include:
– employees
– most workers and agency workers
– casual labourers
– apprentices who are aged 25 and over.
Penalties for failure to comply
With the introduction of the National Living Wage the penalty for non-payment will be 200% of the amount owed, unless the arrears are paid within 14 days.
The maximum fine for non-payment will be £20,000 per worker. However, employers who fail to pay will be banned from being a company director for up to 15 years.
Don't Get Confused Between The Living Wage and The National Living Wage
The new National Living Wage is different from the Living Wage, which is an hourly rate of pay and updated annually. The Living Wage is set independently by the Living Wage Foundation and is calculated according to the basic cost of living in the UK. Employers choose to pay the Living Wage on a voluntary basis.
The National Minimum Wage will still exist for the lower age bands as follows:-
£6.70: for 21s and over
£5.30: for 18 to 20 year olds
£3.87: for 16 to 17 year olds
£3.30: for apprentices (the rate applies to all apprentices in year 1 of an apprenticeship, and 16-18 year old apprentices in any year of an apprenticeship)
 Service
This update is brought to you by CONSULT HR.  We are a professional consultancy company who supports companies with HR and employment issues such as Contracts of employment, Handbooks, Policies and Procedures, Recruitment & Selection, Redundancy, Fair Employment – Annual returns and article 55, Absence Management, Performance Management, Discipline & Grievance, TUPE and Equal Opportunities.  This support is provided by a designated HR Professional who provides professional advice, guidance and on-site support.